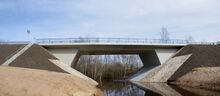 Bridge of Spies is a rather unremarkable bridge on the border of Baltic Union and the Mechanocracy of Russia, where captured spies and other operatives of both sides are routinely exchanged.
As per an informal ritual, both sides will simultaneously release their captives, who will meet in the middle of the bridge, quietly shake hands, and proceed to their respective sides. On the Baltic side, prisoners typically include captured GRU operatives, while the Mecharussian side usually liberates captive Tier One commandos.
Community content is available under
CC-BY-SA
unless otherwise noted.