"Aw, fuck. Look alive, idiots: dropships are about to land a whole bunch of shitheads right on top of us!"
~ Deimos, to a group of raiders.
Introduction
The Mil and Kamov Aerospace Plant Dropship Pattern 91 Gus (Goshawk), shortened to Ka-91 Gus, is a VTOL dropship in service with the Mecharussian Armed Forces. Like the attack VTOL it serves alongside, the Mi-64 Shershen, it is heavily armoured with explosive-reactive armour plating, and it also bears a formidable arsenal on itself.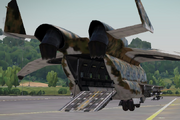 The Gus is capable of carrying up to 2,600 kilograms of cargo in its hold - enough space to convey a fully-armed squad plus an additional section and their equipment. This is in addition to its four-man crew (pilot, main gunner, crew chief and door-gunner), bringing the total maximum number of soldiers aboard a single Gus to 20.
Armament
Most modern variants of the Gus bear a chin-mounted, twin-linked AK-23-2 23-millimetre autocannon designed to fire caseless ammunition at a high enough rate of fire to cut down large numbers of infantry like grass to a sickle, clearing landing zones quickly enough for the dropship to land, disembark its cargo and fly away at speed. Other weapon systems available for the Gus' turret hardpoint include a heavier 45-millimetre autocannon and the 6V48 Uragan heavy Gatling laser. The Black Coats use the even more unorthodox O-39 nuclear flamethrower for their dropships: these 'iron dragons' are said to be exceptionally effective at clearing foliage and burning enemy soldiers that might obstruct a landing zone.
The Gus also typically comes with two rocket pods and eight missile hardpoints attached to stubby wings; this allows it to perform a gunship role effectively, but not so as true attack VTOLs.
Notable appearances
Ka-91s make an appearance in almost every RP in the Frencoverse where the MAF is featured. Notably, it does not make a show in Access Violation.
Trivia
The Ka-91 has gone through more visual appearance-changes (three) than any other vehicle in the Mecharussian arsenal.