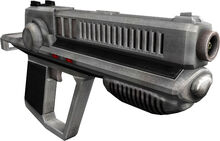 The Misriah Armories W1000 is an advanced laser sidearm, developed, produced and fielded by the New Frenco Empire. Being the standard-issue pistol of the Imperial Military since 2130, it is a commonly seen and recognizable weapon in the Frencoverse. It's capabilities are described as with any laser; extremely accurate, no recoil, and modest stopping power.
Notable Users and Uses
Trivia
The name, appearance and general functionality of the weapon is based upon the Wattz 1000 Laser Pistol from Fallout: A Post Nuclear Role Playing Game and it's sequel, Fallout 2.
Community content is available under
CC-BY-SA
unless otherwise noted.